Senator Pete Flores: District 24
E-MAIL YOUR SENATOR
Click here to e-mail the Office of Senator Pete Flores
Newsletters

June 5, 2023

Capitol Update: Special Session and Bills to the Governor
May 8, 2023

Capitol Update: End of Session Draws Closer
May 1, 2023

Capitol Update: District Bills on the Move
April 24, 2023

Capitol Update: Priority Bills Pass Texas Senate
March 27, 2023

Capitol Update: Property Tax Relief and First Bill layouts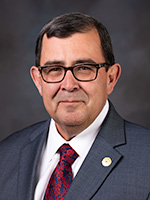 Occupation: Game Warden (Retired)
Legislative Experience: Senate Member: 2018 - 2021; 2023 - present
Hometown: Pleasanton
Party: Republican
Senator Pete Flores was born in Minot, North Dakota and was raised in South Texas, graduating from Laredo Martin High School and then attending Laredo Junior College before transferring and graduating from Texas A&M University.

Senator Flores spent most of his career as a Texas Game Warden, serving the state for 27 years and achieving the rank of Colonel. In this capacity Senator Flores was responsible for a 60 million dollar budget, 27 field offices, 127 civilian employees, and 532 Commissioned Texas Game Wardens with a statewide operational scope and patrol out to 9 nautical miles into the Gulf of Mexico. Senator Flores was the first Hispanic Texas Game Warden Colonel in history. Senator Flores honorably retired from state service in 2012.

In previous service, Senator Flores was appointed by Governor Perry to serve on the State Employee Glass-Door Charitable Campaign Committee, and was appointed by Governor Greg Abbott to serve as a commissioner on the Education Commission of the United States. He holds a Texas Master Peace Officer certificate, is a graduate of the Governors Executive Development School from the LBJ School of Government at UT, and is a Fellow of the National Conservation Leadership Institute.

Senator Flores was first elected in a special election in 2018, becoming the first Hispanic Republican in the Texas Senate, and again in 2022 to serve Senate District 24. He lives in Pleasanton with his wife, Elizabeth, and has two daughters and two grandsons.
E-MAIL YOUR SENATOR
Click here to e-mail the Office of Senator Pete Flores
Newsletters

June 5, 2023

Capitol Update: Special Session and Bills to the Governor
May 8, 2023

Capitol Update: End of Session Draws Closer
May 1, 2023

Capitol Update: District Bills on the Move
April 24, 2023

Capitol Update: Priority Bills Pass Texas Senate
March 27, 2023

Capitol Update: Property Tax Relief and First Bill layouts
Capitol Address
The Honorable Pete Flores
P.O. Box 12068
Capitol Station
Austin, TX 78711

(512) 463-0124

(TEL)
District Analysis: District 24

(Click the map to view a detailed district map in PDF format)